Getting a dental implant is probably the best option for permanent tooth replacement, if any of your teeth are damaged or missing.
Understandably, the cost of dental implants is one of the main questions that people have.
Sydney prices range from $3,000 to $7,000 for each implant.
This figure is influenced by a number of factors. 
Dental implant procedure: $5,000 to $5,500

More complex single dental implant: $5,500 to $6,500

'Full arch' dental implant procedure: $20,000 to $30,000
At first glance, the dental implant cost may seem eye-watering.
However, this treatment actually lasts the longest out of all tooth replacement options – making it the most cost-effective and reliable solution.
But not any dental implant will do.  
There are different types of dental implants. At Mona Vale Dental, we predominantly use titanium implants – and for good reason.
We'll get into that further down, but first, let's talk about why this is such an effective treatment for a range of problems.

Why consider getting a dental implant in the first place?
Dental implants replace decayed, broken or missing teeth permanently.
Patients who felt self-conscious to smile with damaged or missing teeth reclaim their confidence with implants, which look and act just like real teeth. There's no more pain or discomfort when eating and speech quality improves too.
How it works:
A titanium post is inserted through a small incision to the gum, and an artificial tooth is attached to replace a single tooth. The titanium implant fuses with the bone to create a permanent solution, which saves money in the long term.
If multiple teeth need replacing, more implants can be inserted. Some patients need implants for most of their teeth, because the extent of damage is so widespread.
Are dental implants better than dentures or bridges?
Dental implants tend to give patients more value for money, although the upfront costs are higher.
This is normally a one-off investment as implants are stronger and last longer than bridges and dentures. Expect your implant to last for at least 25 years, but far longer with proper care (even an entire lifetime).
Implants are easier to clean than dentures (which need to be removed) and bridges (food can become trapped under the bridge).
The installation procedure doesn't involve removing some enamel from surrounding teeth to accommodate the treatment (as with dental bridges).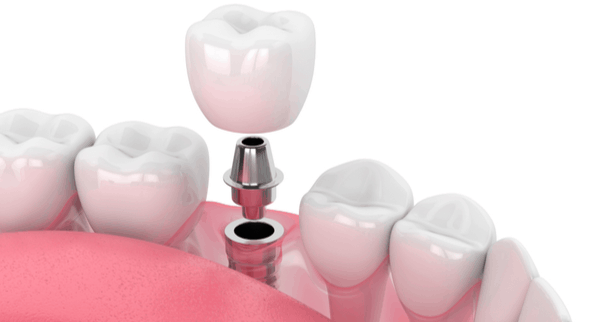 Different types of dental implants
(materials)
At Mona Vale Dental, we use a two-piece system that consists of an artificial root structure (a post that's made out of titanium) and an artificial tooth (ceramic material that replicates the natural look and feel of enamel).
Titanium implants:
Why titanium for the root? 
It's highly biocompatible with the human body and fuses well with the jaw bone, which makes the entire implant more secure. 
This material has a good track record, dating back to the 1960s for oral implants – so there's no shortage of clinical studies touting its benefits. Titanium also costs less than zirconia implants. 
It's extremely rare for people to be allergic to titanium, but there are metal-free alternatives in such cases. 
Zirconia implants (metal-free alternative):
The entire zirconia implant is usually manufactured as a single piece from ceramic material, which gives the dentist less flexibility when installing it. This means it isn't suitable for patients who need all of their teeth replaced.
Zirconia is also less durable than titanium and more likely to fracture.
Although both options are safe, zirconia implants have been used for less time, so they aren't as well understood as titanium ones. They tend to be pricier too!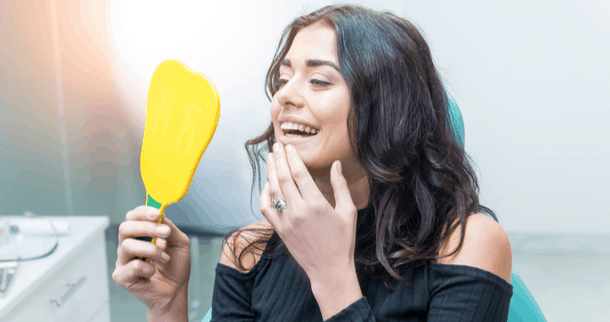 Are dental implants painful?
Not at all, they feel just like healthy, natural teeth after the initial tenderness from the procedure wears off. 
You may feel a little sore around the implant site for a few days following the procedure, but this is nothing that pain killers can't soothe. 
Health insurance and payment plans
A portion of the costs may be covered by private health insurance, for patients with a comprehensive extras policy. At Mona Vale Dental, we offer health fund rebates and accept HICAPS, which means you only pay for the gap.
We also offer interest-free, extended and flexible payment plans so that people may get the procedure straight away (but pay gradually for the treatment).
Our experienced team has been permanently replacing teeth for over ten years. Call us on (02) 9997 1100 to book an appointment or find out more.