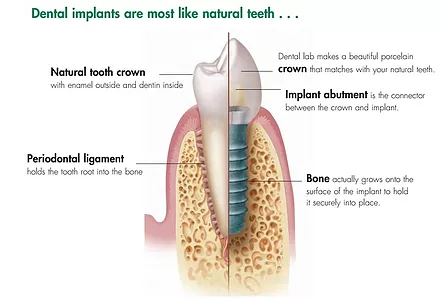 If you have lost a tooth and would like to look at the options for replacement, a Dental Implant may be the answer.
Dr. Alistair Graham has completed the Graduate Diploma in Clinical Dentistry (Oral Implants) from Sydney University, and has studied extensively in the UK, Australia and Switzerland on this field.  He is therefore highly qualified with extensive experience and recognised to provide the planning, surgical and restorative phases of the Implant treatment at Mona Vale Dental
This means that we have clarity of your whole treatment plan, and you are very much in control of the outcome. For you, this means that all of your treatment is completed in one place, and you have peace of mind that someone understands the entire treatment plan.
A Dental Implant is an artificial root made of titanium metal. It is placed into the jawbone to replace the root of the natural tooth. An artificial replacement tooth is attached to the implant. The implant acts as an anchor to hold the replacement tooth in place.
Dental Implants offer a solution for replacing missing teeth without damaging other teeth. A replacement tooth can be placed onto an Implant to give you back your smile, or let you eat what you want to again without having to put up with a gap between your teeth. Implants can be used to replace anything from one missing tooth to an entire mouth of teeth.
Treatment planning is done in conjunction with a 3D computer software system, so we can ensure that the highest level of accuracy is achieved when planning and executing treatment. In some cases, we complete the surgical treatment phase using computer guided surgical templates that ensure the most accurate implant placement.
We are also able to perform procedures such as bone grafting, soft tissue grafting, guided bone regeneration and sinus floor lifting if the bone quality and quantity needs to be improved in the proposed implant site.
Alistair is a member of the International Team for Implantology (ITI), the Australian Society of Osseointegration (AOS) and Osteology Foundation. Alistair also lectures on Implants and Implant treatment. He accepts referrals for Implants from General Dentists, and acts as a Mentor to colleagues in this field of Dentistry
Can you get dental implants after dentures?
Mona Vale Dental
2017-12-20T13:04:23+10:00
Absolutely! In fact, many people with dentures opt to replace these with dental implants. Most patients say that dental implants feel far more secure and give them more freedom than dentures.
Are titanium dental implants safe?
Mona Vale Dental
2017-12-20T08:25:03+10:00
Yes, titanium dental implants are completely safe and effective. The titanium implant replaces the original tooth root, which in turn will hold the artificial tooth in place.
How long does a dental implant procedure take?
Mona Vale Dental
2017-12-20T13:04:44+10:00
The overall dental implant procedure can take a number of dentist appointments. From initial consultations to determine whether a dental implant is the best course of action for your own unique needs, through to 3D imaging, placement of the artificial root and then actual implantation, the entire procedure can take a number of months – depending on your own unique needs. There are situations where a dental implant can be placed straight after the tooth is removed, this is something your dentist will discuss with you.
If you have any other questions that are not covered here, please feel free to contact our friendly team who will be more than happy to help you.