Creating amazing, natural-looking smiles
Dental veneers are tooth-coloured "shells" that cover the front of a tooth. They're made out of wafer-thin porcelain or resin composite materials that mimic the look and feel of human teeth. Each veneer is customised to be bonded over the patient's natural tooth – with the purpose of changing its shape, size, colour or length. It's possible to get veneers for a single tooth or any number of teeth, but many people opt to have a full set of veneers installed.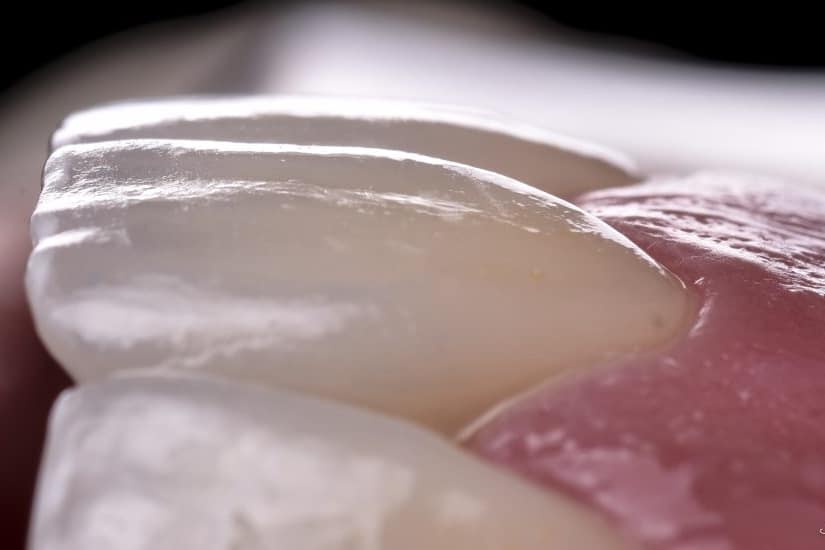 What can veneers do for you:
Veneers are a great option if you would like to improve the appearance of your teeth and enjoy smiling again. We design custom-made porcelain veneers, which are thin, shell-like structures placed over the front of the teeth.
Ever heard any of these concerns about dental veneers?
We use Digital Smile Design, so these problems become myths
Replicating the natural look, shape, texture and silhouette of your teeth is no easy task.
With Digital Smile Design, we give you a confident smile which is custom designed to suit your unique facial features. We also use technology to simulate the outcome before your treatment begins, so you can be confident in the result. This all means a comfortable, predictable process to achieve the look you want, saving you time and money.
Dental veneers are tooth-coloured "shells" that cover the front of a tooth. They're made out of wafer-thin porcelain or resin composite materials that mimic the look and feel of human teeth. Each veneer is customised to be bonded over the patient's natural tooth – with the purpose of changing its shape, size, colour or length. It's possible to get veneers for a single tooth or any number of teeth, but many people opt to have a full set of veneers installed.
What are dental veneers used for?
This cosmetic solution enables people to hide their dental imperfections and enjoy confident smiles with whiter and straighter teeth. People are motivated by the desire to improve the aesthetics of their mouth.
Common reasons why people get veneers:
Chipped, cracked or broken teeth
Gaps between teeth
Stained or discoloured teeth
Crooked teeth
Fillings that look obvious
Irregularly shaped or eroded teeth
Teeth that look too short, small or uneven
Minor crowding in the mouth
What are dental veneers made of?
Veneers are typically made out of porcelain or resin composite materials. Porcelain laminate veneers are thin "shells" of porcelain that are bonded to the front of the tooth. Composite veneers are made from a synthetic mix of resin (plastic) with glass and they're applied to the tooth one layer at a time.
Composite resin veneers are added to each tooth in single layers, which are sculpted in place by the dentist. This only takes a single session to complete.
The veneers are colour-matched to blend with biological teeth
A light is used to harden each layer before the next one is applied
Finally, the veneers are polished to create a natural look
Porcelain laminate veneers are customised in a laboratory to perfectly match the individual's colour, shape and size requirements. The entire process usually takes three sessions, including the consultation.
First the tooth is prepared to remove some of the enamel, to create a perfect fit
The patient has the option to wear temporary veneers until the porcelain veneers arrive (this usually takes a few weeks)
Another appointment is made to bond the veneers in place
Composite veneers vs. porcelain veneers?
Both composite and porcelain laminate veneers have their benefits, as well as possible drawbacks.
At Mona Vale Dental and Implant Centre, we offer both options, however we recommend getting porcelain veneers if your budget allows, since they last longer and give a far superior aesthetic result.
How long do dental veneers last?
The lifespan depends on whether you have porcelain or composite veneers, and how well you care for them. Porcelain laminate veneers can last from 10 to 12 years. Composite resin veneers need to be replaced sooner, since they last for around 4 to 8 years.
Yes, they look extremely natural! It's difficult to tell when someone has veneers, as they look and feel like biological teeth. If you have any concerns, we can create a digital mock-up of your new smile, so you can preview the results and suggest alterations, before we make any physical changes. This process is called Digital Smile Design.
Is it painful to get veneers?
Most patients don't experience any serious pain while getting veneers. However, there may be some temporary discomfort if you have very sensitive teeth. This is because dentists prepare some of the natural enamel before applying veneers, to help the bonding process. Local anaesthetic can be applied to minimise the discomfort.
What are the risks or potential problems from veneers?
Most people have no regrets after getting veneers. However, please be aware that getting a veneer is a non-reversible solution, because natural enamel must be removed to accommodate bonding.

As a result, your tooth will always require some form of covering. This might take the form of a replacement veneer 15 years down the track, or even a crown.

It's worth noting that some individuals experience temporary sensitivity to hot and cold foods as a result of removing the enamel, although this is uncommon because the ceramic shell is as strong and effective as enamel (if not stronger).

Your dentist will speak to you about all of the risks involved.
Curious to know how veneers would suit YOUR face?
Our unique suite of tools and technology enables you to see how a smile will make you look - toyourself, to others, and to the world. You can see your smile before any surgery takes place, we create a 3D simulation on screen. We'll try as many configurations as it takes until we arrive at a smile that truly enhances your face, and gives you complete confidence.
Who can get Dental veneers?
Anyone with healthy teeth and gums is a suitable candidate for dental veneers.
Can veneers be put on crooked teeth?
It depends on how crooked the teeth are. In mild cases, veneers can help teeth to appear straighter. However, orthodontic treatment is usually recommended for more complex cases, before getting veneers.
Can you get veneers if you have gum disease?
No, we don't recommend veneers for anyone with active gum disease. Your dentist will speak to you about options that treat the condition and support optimum gum health, which will enable you to get veneers in the future.
Veneers vs. crowns - which is better?
Veneers work perfectly for minor conditions, such as chipped teeth.

However, veneers don't offer enough protection for teeth that have been severely damaged or badly broken. Crowns are more appropriate in these cases.
What are the differences between veneers and crowns?
Both veneers and crowns restore the aesthetic appearance of teeth, however veneers only cover the front surface, whereas crowns encase the whole tooth. Veneers are strong but can become dislodged if repeatedly impacted by sharp or blunt objects. A crown is usually a lot thicker than a veneer, which makes it more durable as well.
We let you test drive your new smile
How can you say yes to treatment before you know what the result will be? We'll show you how your new smile will look, in your own mouth, before you get started.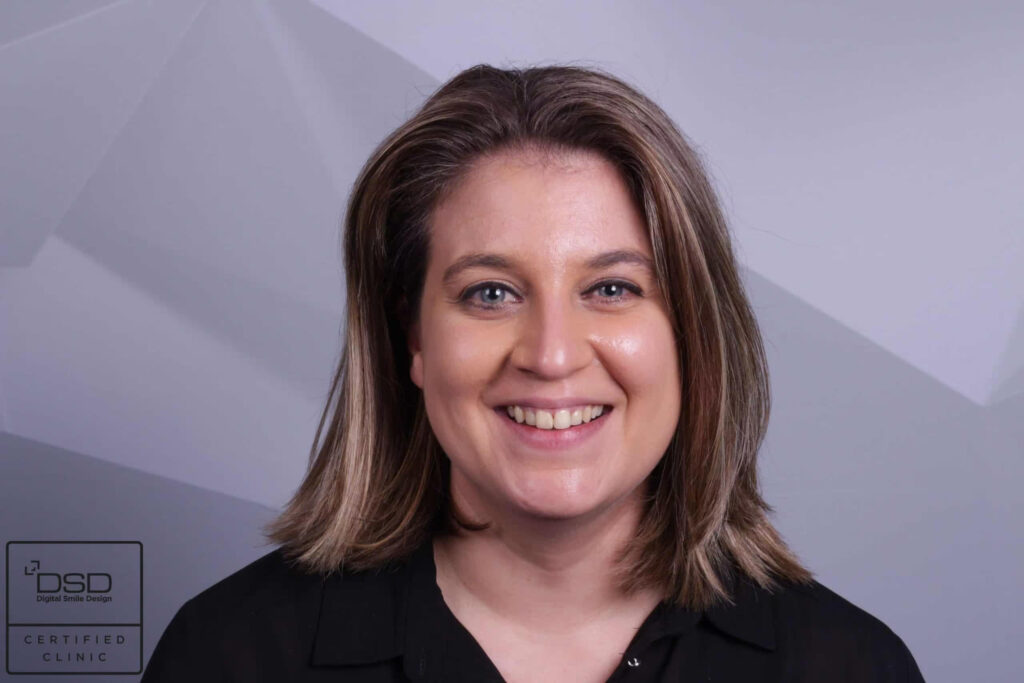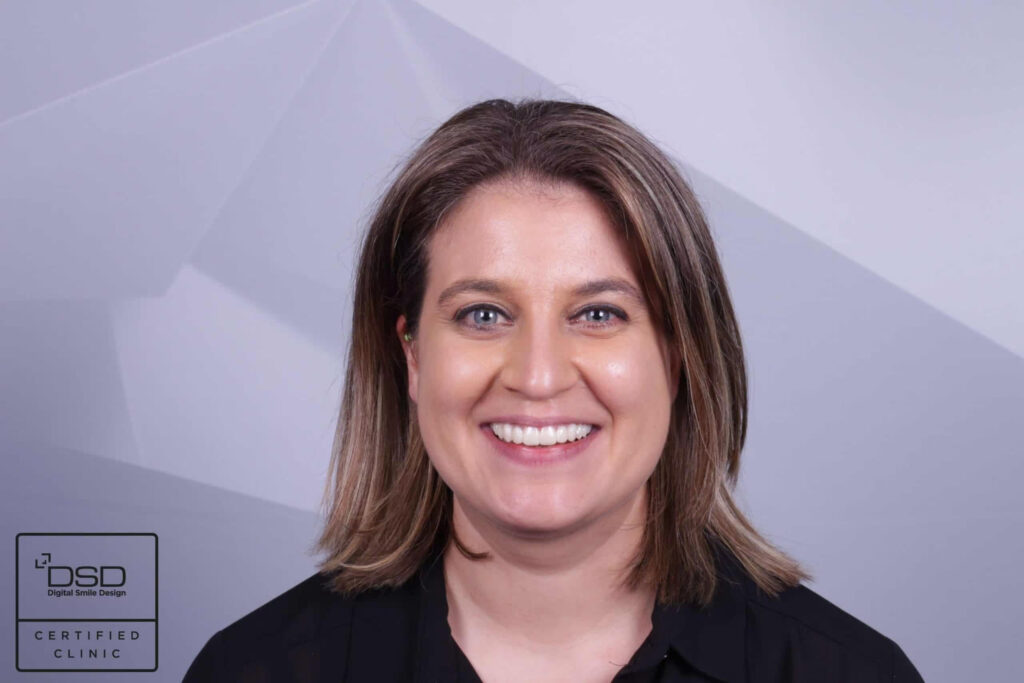 Caring for dental veneers
Can veneers stain over time?
No, that's the beauty of using ceramic as a material; it resists stains a lot better than composite resin. This means you don't have to completely cut out coffee, wine and other pigmented drinks. Having said this, some dentists prefer to err on the side of caution and suggest that you reduce your intake or rinse your mouth after consuming such beverages or foods.
How to look after your veneers:
You can extend the lifespan of your veneers by taking good care of them. This involves carefully brushing and flossing twice a day. Be sure to brush for two minutes each time. An electric toothbrush can make this process more effective.
Other steps you can take:
Don't chew on hard items or put pressure on your teeth by using your mouth to open bottles and other tough materials.

Try to avoid brittle foods, such as hard candy. If you can't resist, make sure you chew carefully.

Rinse your mouth well or brush your teeth after consuming foods and drinks that stain teeth.

Visit your dentist every six months for a professional cleaning session that removes tartar from hard-to-reach places.
Best toothpaste for veneers?
Any standard toothpaste that contains adequate levels of fluoride should be fine to use on your veneers (approximately 1000 to 1500 ppm). However, you want to avoid products that contain abrasive agents, such as whitening toothpastes.
Certain chemicals, like hydrogen peroxide, can damage the veneers. Ask your dentist for recommendations on the best toothpaste to use.
Can you whiten dental veneers?
No, veneers don't respond well to whitening treatments.

Porcelain veneers are highly stain-resistant and should maintain their whiteness over time.

Composite resin veneers are more susceptible to discolouration. Surface stains can usually be removed by a dentist, however you may need to replace your composite veneers if the stains are deeper.
Paying for dental veneers
How much do dental veneers cost in Australia?
This depends on multiple factors. Typically, porcelain laminate veneers cost around $1,700 to $1,900 per tooth. Composite veneers cost around $450 to $700 per tooth. We offer interest-free and flexible payment plans for those who can't afford to pay the full cost upfront. Contact our team if you'd like more detailed information about pricing.
Are veneers covered by dental health insurance?
Your private medical insurer might cover part of the treatment. We can give you the health insurance item number for the treatment you have in mind, so you can ask your provider if it's covered by your health policy.
Schedule your consultation with us at our state-of-the-art practice in Mona Vale. Discover how our treatments can improve your health and boost your confidence