As a dentist, one of the most common questions I get asked is:
How can I whiten my teeth at home?
So I've decided to explain all things teeth whitening in this post. Continue reading to learn if at home teeth whitening kits are safe, how effective at home whitening is, and how professional whitening is different.
Is at-home teeth whitening effective?
At-home teeth whitening is a do-it-yourself alternative to professional teeth whitening that costs less than professional procedures performed at a dental practice. The at-home whitening products have lower concentrations of hydrogen peroxide so they do not offer the same degree of shade changes that you would get from whiteners that your dentist uses. If you're looking for a slight whitening effect, these can help but if you're looking for a more effective whitening effect you are going to be frustrated by the results you get at home.
One of the options available for at-home teeth whitening is teeth whitening strips. You could expect this whitening method to make your teeth about 2-4 shades whiter. The cost for this method would be $40 – $70.
What is professional teeth whitening?
Professional teeth whitening is performed by trained dental professionals which means you will get safe and reliable results. The results you get from professional teeth whitening tend to be better because dentists have access to higher concentration bleaching gels.
Professional teeth whitening is ideal for those who wish to achieve dramatic results. You can brighten and whiten your teeth up to 8 shades using a treatment such as Philips in-chair Zoom!® teeth whitening after a quick one-time session. Your dentist will also provide you with custom-made whitening trays as part of a take-home teeth-whitening kit. With proper care and your take home kit your brighter teeth can last for years. The cost is approximately $700 to $900.
How do teeth whitening kits work?
Teeth whitening kits usually contain clear adhesive strips coated with a whitening solution that you apply to your teeth once or twice a day for anywhere from half an hour and two hours depending on the brand.
A common complaint about this method is uneven results because the strips can't get into the crevices of the teeth . This is mostly due to the whitening strips ability to maintain prolonged contact with the tooth due to the frequent slippage caused by saliva production.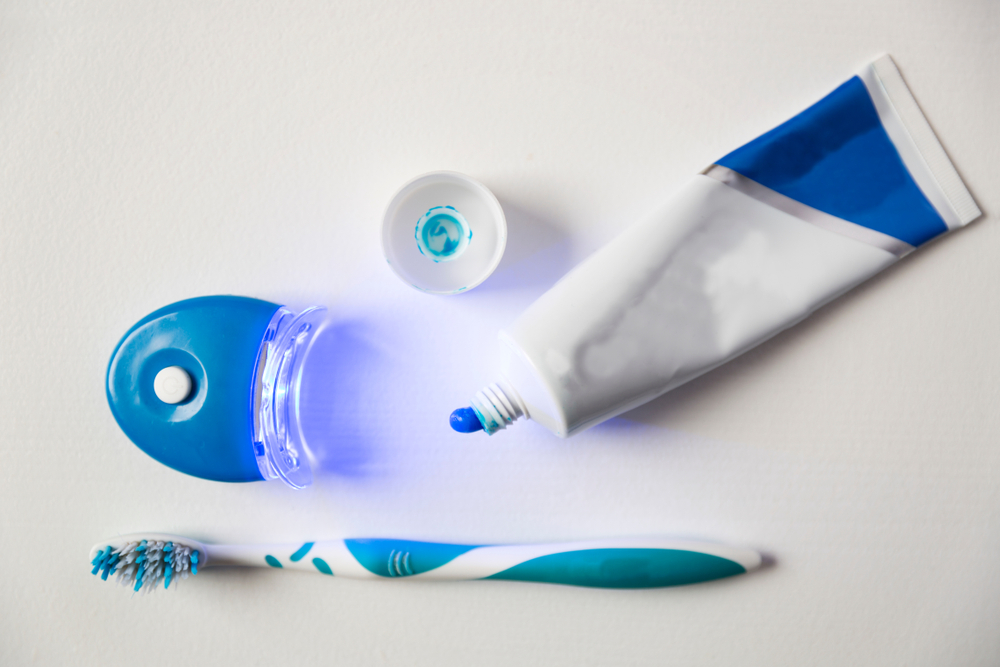 If using whitening strips at home, what's safest/best practise to use and apply?
Anyone can whiten their teeth at home which is both good and bad. It's good because it's incredibly convenient but it's bad because if you have oral health issues, you may end up causing yourself intense pain and damaging your teeth and gums. It is recommended that you visit your dentist and make sure you don't have any cavities before using whitening strips.
Before using teeth whitening strips:
Brush your teeth prior to application
Use whitening strips in moderation
Avoid contact with the gums – cut the strips so they don't overlap with or touch your gums, they should touch only your teeth.
Do not consume dark foods or beverages after whitening
What's the most common mistake people make when attempting to whiten teeth at home?
Common mistakes when using whitening strips include:
Not carefully following the application instructions which causes unnecessary damage to teeth and gums.
Overuse of strips which makes teeth more susceptible to cavities and sensitivity.
Brushing teeth after treatment which can result in pressing the abrasive chemicals into the enamel of your teeth causing further sensitivity.
Wearing of strips overnight or while sleeping/napping.
Causing damage to the gums by allowing the whitening strips to touch the gums
Is there anyone who should avoid attempting teeth whitening strips at home?
It is recommended that you have had a recent oral health screening assessment prior to commencing any teeth whitening procedure.
If you experience teeth sensitivity you should avoid attempting to use whitening strips at home. Though they are considered relatively safe, these adhesives can irritate the gums and unnecessarily damage enamel, especially when overused.
When using whitening strips it is not uncommon to experience some increased teeth sensitivity to hot or cold. You may also experience soreness or pain throughout your mouth when eating certain foods, especially sugary foods. If this happens, it is best to avoid or limit teeth whitening strips.

Are there any other ways people can brighten or maintain whiter teeth you recommend?
Visit the dentist or Hygienist to get a thorough and effective clean and polish, and use a good electric toothbrush at home. There's no alternative to routine cleaning and maintenance.
What's the best way to whiten teeth?
The best way to whiten your teeth is to utilise our 'White for Life' program, an exclusive teeth whitening offer for the Northern Beaches. At Mona Vale Dental we have have launched our 'White for Life' program. This means anyone who has had Zoom In-Chair Teeth Whitening with us can get a free whitening top up boost every time they come in for their 6 monthly Hygienist appointments.
There's NO extra charge, it's completely free.
The "White for Life" Program:
For any patient who has had Zoom In-Chair Teeth Whitening with us
Every Hygiene appointment we will apply top up gel to boost the colour
Free, no time limit
Patient must bring in their custom tray
10 minutes application
Ready to book in for a check-up or your first teeth whitening appointment? Make an Appointment