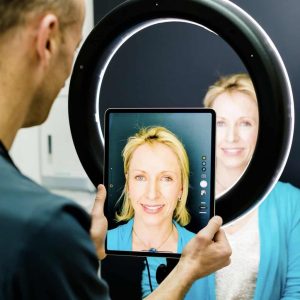 In the grand scheme of life, having crooked or discoloured teeth isn't a big deal.
Having said this, even minor dental imperfections can stop you from connecting with people in an authentic way – especially if you purse your lips together when smiling to hide your teeth. 
Your mouth is one of the first features that people notice about you, so it's important that you feel confident about smiling in a natural and unguarded way. 
Thankfully most dental imperfections can be fixed with surgical or restorative treatments that enhance the appearance of your teeth, gums and bite. Many of our patients want to change the shape, size, colour or positioning of their teeth.
The main focus of cosmetic dentistry is to improve the appearance of your mouth, but it can also improve functionality too. For example, braces straighten teeth but also correct a bite.
Benefits of cosmetic dentistry:
Feel confident about your smile
Socialising is more enjoyable when you're not self-conscious about your teeth
Better oral hygiene, it's easier to clean teeth that have been restored
No more discomfort when eating
Fewer headaches
Results look natural and last a long time
Look younger 
Safe and minimally invasive procedures
Recovery time is usually quick
Many different procedures fall under the umbrella of cosmetic dentistry:
Braces
Invisalign
Teeth whitening
Stain removal
White composite fillings or porcelain inlays
Dental implants, bridges or dentures
Same-day dental crowns
Veneers
These treatments are targeted towards an array of cosmetic imperfections, such as:
Crooked teeth
Chipped, broken or missing teeth
Discoloured or stained teeth
White spots
Misshapen, damaged or decayed teeth
Teeth that are too small
It's worth noting: no cosmetic procedure should get in the way of functionality. It's important that your dentist considers the health of your oral cavity, when making aesthetic changes. For example: teeth shouldn't be altered if cosmetic changes lead to long-term discomfort when chewing food. 
Depending on the circumstances, cosmetic procedures can serve a dual role by improving bites, alignment, oral hygiene and chewing.
Let's look at some of the most popular cosmetic treatments in more detail.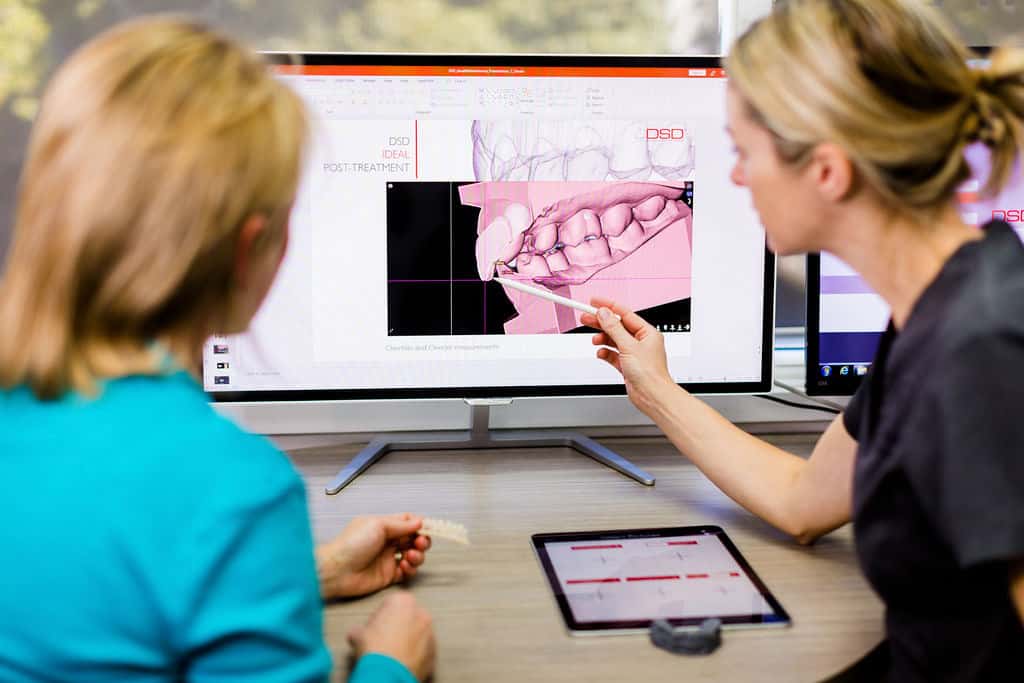 Common cosmetic dentistry procedures: 
Braces
Braces are usually recommended for patients with complicated alignment issues and crooked teeth. Metal or ceramic-based appliances are fixed onto teeth, and worn around the clock for around 18 months to 3 years. This system applies constant pressure to the teeth. Over time, the shape of your jaw conforms to this pressure, and teeth move into their set location. In Australia, metal braces cost between $2,000 to $9,000. Ceramic braces cost between $5,000 and $8,500. 
Invisalign
Invisalign aligners serve a similar function to braces, but are suitable for less complicated misalignment issues. 
The clear removable trays are worn for at least 20 hours a day over 6 to 18 months. Constant pressure is applied, in order to gently move the teeth into position. These aligners need to be removed when eating or drinking anything other than water, so require higher maintenance than braces. 
People who feel self-conscious about getting braces usually prefer Invisalign, as the clear aligners are practically invisible. 
Average prices range between $3,500 and $8,000.
Porcelain veneers
Porcelain dental veneers enhance the appearance of your mouth by covering the front of a single tooth or multiple teeth. These tooth-coloured "shells" look and feel just like natural teeth, although they're made from wafer-thin porcelain materials. You can change the shape, size, colour or length of your tooth with veneers, which are customised to your needs.
This is a good option for anyone who wants to hide their dental imperfections – as long as you have healthy teeth and gums to begin with. Prices range between $1,700 to $1,900 per tooth. Veneers last from 10 to 12 years. 
Same-day dental crowns
Patients with weakened, damaged, stained or decayed teeth may benefit from a dental crown, which protects and supports the tooth by mimicking the qualities of enamel. 
Crowns are also useful for securing a bridge in place, covering an implant or repairing large cavities. At Mona Vale Dental, we use biocompatible porcelain crowns, which look the most natural and are highly resistant to cracks and fissures. 
Here's the best part: 
We're able to install your crown in a single day, using advanced CEREC technology (instead of the standard two to three appointments that are normally required for crowns). 
Dental crowns last between 5 to 15 years, depending on how well you look after them. 
A single ceramic crown costs between $1,800 to $2,100. 
Dental implants
You may benefit from dental implants if you have any damaged or missing teeth. We attach an artificial tooth to a titanium post, which is then inserted through a small incision in the gum. Our titanium implants are biocompatible and safe, having been used for decades. They look and feel like your natural teeth, so they're completely undetectable. If you take care of your titanium implants, they can last for around 25 years, or even a lifetime. Prices range from $2,000 to $7,000 per tooth.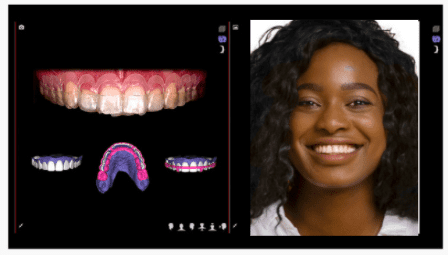 Cost of cosmetic dentistry
Treatment costs vary, depending on the procedure you're having and the extent of your problem. Although dental care isn't covered by Medicare, you may get some money back if you have private insurance. This is determined by your policy and level of cover, so ask your provider if they cover the treatment that you have in mind. 
Note: Mona Vale Dental offers interest-free and flexible payment plans. Please contact our team to find out more information.
Test drive your new smile with Digital Smile Design (DSD)
How would you like to see a digital preview of what your new smile will look like, BEFORE committing to any treatment or procedure? 
Mona Vale Dental uses cutting-edge 3D technology to design a natural smile that's based on your facial proportions and personality. 
You get to preview a replica of the final result – so you can see EXACTLY what to expect, down to the finest detail. 
We can then adjust our approach, based on your feedback, before we make any physical changes to your mouth. This gives you full control over how your smile will look and feel, and you can even experiment with different designs. 
There's no risk of buyer's remorse, since you preview the results first. If you'd like to find out how we can improve your smile, we offer a 30-minute complimentary consultation.
Here's more information about Digital Smile Design:
Digital Smile Design is a specialised field of cosmetic dentistry that requires a lot of training. Dr Alistair Graham is qualified to apply the Digital Smile Design framework to surgical and restorative treatments. 
Our team uses advanced digital technology to design a natural smile that's based on precise data from photographs and videos that show your facial proportions.
We create a 3D design that you can examine and show your loved ones for their feedback.
Are you not completely satisfied? Let's adjust the design based on your feedback.
We then create a treatment plan that delivers the exact results you desire, if you choose to go ahead with the treatment. 
Fill out this contact form or call our team on (02) 9997 1100 to find out how we can give you a smile that you love to show off.