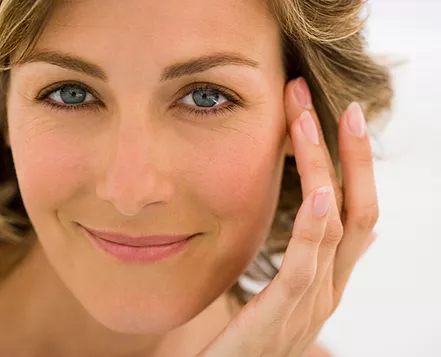 What is botox?
When you smile, frown or laugh, folds briefly appear on your skin. Over time, these lines become imprinted on your features as your facial muscles contract.
Botox injections use small and diluted amounts of a powerful neurotoxin to temporarily reduce the appearance of wrinkles that have settled on your face over the years.
Dr Alistair Graham injects a purified version of the botulinum toxin into the area you want to improve, which stops targeted muscles from contracting or shortening (by blocking a chemical messenger called acetylcholine).
Fine lines and wrinkles are erased, resulting in smoother and more youthful skin. Many patients treat the lines around their forehead, eyes, eyebrows and mouth, but botox is also used to ease medical conditions, such as severe migraines.
The results usually last for three to six months. After that, your body eliminates the chemical and you may notice a gradual return of wrinkles. Subsequent treatments will be needed to maintain the look you desire.
Why do it?
There's a reason why botox is the most popular non-surgical cosmetic treatment in the world for those wishing to freeze time and look younger, fresher and more radiant. It works and the results are fairly instant, with improvements being noticed in as little as 24 hours to a week. Many people only need follow-up treatments once or twice a year.Botox is also incredibly versatile, laying claim to a wide range of medical uses.
Beyond beauty, people get injectables to treat various ailments, ranging from chronic migraines and excessive sweating to muscular disorders and leaky bladders. So far, more than 20 different conditions can be treated, with research underway for other applications.
Can you tell me more about the neurotoxin?
In high concentrations, the botulinum toxin is one of the most poisonous substances known to man. It's derived from Clostridium botulinum, an organism that's largely inactive and non-toxic when found in soil, lakes, forests and other natural settings.
If you're worried your body won't be able to handle the botulinum substance – rest assured, only small concentrations are used in botox, to create a safe treatment that's used in more than 75 countries.
In fact, professionals have been using this material for medical purposes for more than 50 years. It was first approved for relaxing frown lines in 2002 and since then has been successfully administered to more than 11 million patients for cosmetic treatments.
How does Mona Vale Dental deliver the treatment?
We dilute the botulinum toxin in saline, before injecting it straight into the targeted neuromuscular tissue using a fine needle (for minimal discomfort).This only takes a few minutes but you'll notice some improvement from three to seven days and full results within two weeks. This is how long it takes for the substance to prevent your muscle from contracting.
At the start of your appointment, our experienced dentist explains the procedure and discusses any concerns you might have. We also take time to study your facial expressions, to make sure we administer the perfect amount and tailor the results for you.
The number of injections we use depends on your individual needs and the result you're seeking. We can apply a topical anesthetic cream before the injection, if you're worried about pain.
There's no reason why you wouldn't be able to resume normal activities straight away, but we will advise you if there's anything you should avoid (such as alcohol for one week before and after the treatment and anti-inflammatory medication two weeks before the procedure).
Why choose Mona Vale Dental?
These days, beauty therapists are popping up left, right and centre to give their clients botox, with less than desirable results. There's no shortage of botched jobs and horror stories, born from inexperience.
Precision is essential for a successful anti-wrinkle injectable treatment. It's vital that botox is administered by a medical practitioner, who's been trained in facial anatomy, physiology, pharmacology and injection techniques.
You can trust the experienced dentists at Mona Vale Dental to use safe and effective techniques to smooth out your lines and restore the face you desire.We understand you want to be the best version of yourself, while avoiding the unnatural and "frozen" look that occurs when injectors get carried away, or don't know what they're doing.
Although you want your muscles to be relaxed, you still want to express yourself in a natural way. Our trained professionals take the time to study your facial expressions, so we can administer the botox carefully to fade your lines, without freezing movement in your face. Our goal is to relax your underlying muscles, not completely paralyse them.
Your face is your very own calling card in this world. It's one of the key ways you connect with people and express yourself – we would never compromise that.
How safe is botox?
Botox is a safe procedure, when administered by a trained medical professional. Most patients tolerate anti-wrinkle injectables well, without any side effects.
Having said this, there's always some risk involved (as with most medical procedures). Pregnant and breastfeeding women should generally avoid having this treatment, as should people with compromised nervous systems or muscle disorders.
Most of the potential side effects are mild and temporary. These include:
Some pain, fluid buildup or reddening of the skin at the injection site
Headaches
Numbness
Nausea
Swelling
Bleeding
Fatigue
Dry mouth
Flu-like illness
Temporary drooping of upper lid or brow
Temporary weakness in nearby muscles
Although highly unlikely, more serious side effects include:
Muscle weakening leading to paralysis in that area, after prolonged use
Allergic reactions
Blurred vision and other eye-related side effects
Gallbladder dysfunction
Follow-up botox treatments are ineffective for one per cent of people getting injections, because their systems develop antibodies to the toxin, making it ineffective in rare cases.
Dr Graham will speak with you more about what you can expect during your consultation.
There's much to be said about aging gracefully, but there's nothing wrong with minimising your lines to preserve your youthful appearance for as long as you can. There's no denying that we live in a youth-obsessed society, so why shouldn't you use all the tools at your disposal to boost your confidence and put your best face forward?
Contact us if you would like to find out more about this treatment.